This page is a work in progress, To see more of my work, visit my instagram page.
Project 1: Kitchen and Guest Bath
This client just had her kitchen and guest bath remodeled. She was stuck as to how to "finish it". She contacted me for help with styling and choosing everything from lighting to furniture. Her goal was to have a very farmhouse style home and I think we achieved just that.
Project 2: Living Room Styling and Dining Nook Refresh
This client wanted to refresh her home on a small budget. She had a pretty house but it needed to be updated and remain kid friendly.
Before
This dining nook wasn't functional for the family. It was hard to get in and out as the table was too large and the wrong shape for the space. The bench cushion, pillows, and chandelier also needed to be updated.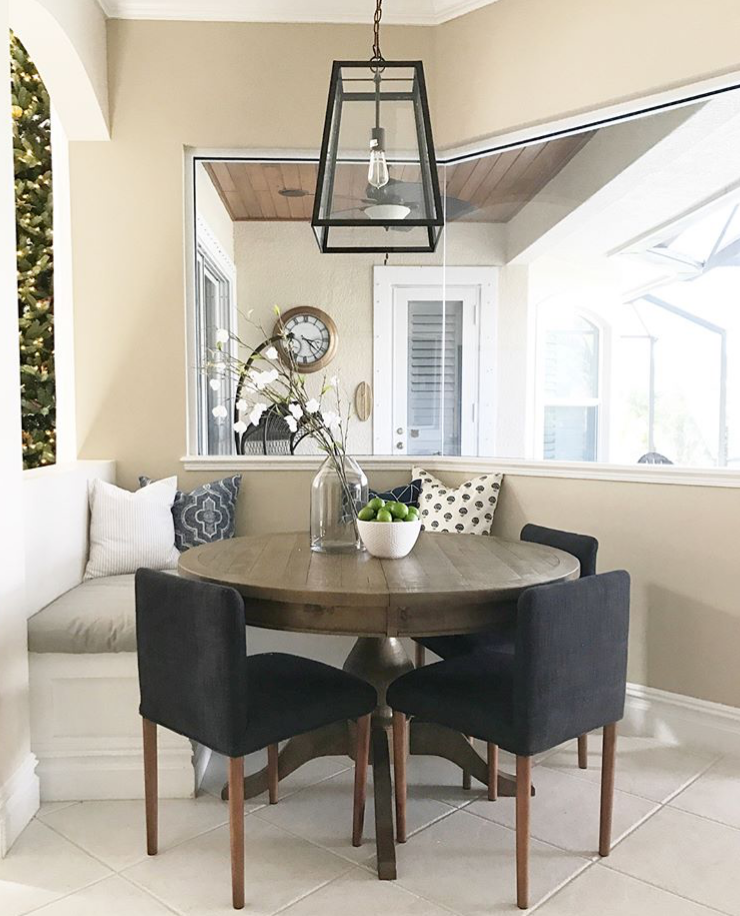 I chose a round table with navy accent dining chairs to make the space beautiful and functional. The throw pillows and bench cushion were recovered for a clean and fresh look. I also updated the busy chandelier with a sleek pendant.
For the living room, she wanted to keep her sofa, chairs, and wall shelves by the fireplace and asked me to update the room with pretty decor, a new rug, and coffee table. The sofa was a dark color and needed to be lightened up. I did that with some pretty pillows, a throw and a light colored coffee table.
For the opposite side of the room, I kept it light and bright with a new piece of art for above the mantle , some shelf styling, and new light colored pillows for the chairs. Her father arranged the florals in the vases so we had him update them with white flowers instead of orange.